Rae Tso- Charitable Gift Annuity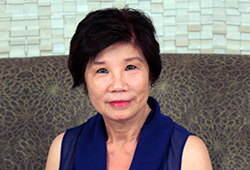 When Rae Tso retired in 2009, she wanted to move to a retirement community and continue working — not for the pay she could earn, but for what she could give back. Rae is fulfilling her wishes as a volunteer community leader and generous donor of a charitable gift annuity.
"I'm truly grateful for the opportunities I've had in this country, and now it's my turn to reciprocate," she says of her $100,000 gift to Saddleback Memorial Foundation. "It's so much better than having it locked in a savings account. Instead, I have a great deal of satisfaction knowing I'm contributing to the well-being of our community." Rae said she was "made in China," the money was "made in the USA," and she simply returns the money to society with great pride.
Born in Shanghai, China during World War II as Rae-Chu-Ping (translated: "Hope-Peace"), Rae came to the U.S. with $100 from her parents. She credits them for teaching her the importance of an education and living within one's means.
Rae looked for a worthy institution to support and found it in Saddleback Memorial. As a new member of the Foundation board, she will be involved with many decisions that raise money for important services of the hospital.
"We have one of the best hospitals in the U.S. right in our backyard and it has helped many of our residents in Laguna Woods," says Rae. "To remain a leading hospital, we need to retain and recruit highly qualified physicians and staff who are drawn by state-of-the-art facilities, and that takes money. For me, giving to the hospital wasn't a question of why, but why not."